It's the festive season, and for eCommerce businesses, that means one thing; It's "Go!" time.
Google Shopping has proven itself to be invaluable to retailers. According to a Smart Insights, Google Shopping ads (also referred to as Product Listing Ads) now account for 76.4% of all retail search ad spend, and are responsible for over 85% of all search ad clicks in the retail sector. They are powerful statistics. So, whether you're selling Christmas jumpers or car parts, it is crucial that you optimise your Google Shopping feed and campaigns to give yourself the best chance of converting high-intent traffic. Here's our Top 5 Tips to get your Google Shopping feed optimised for this holiday season.
1. The GTIN (Global Trade Item Number)
Though this is not required for every product (eg. multi-packs of items, custom products, antiques etc.), the GTIN is key to the optimisation process. Why?
When a customer is looking for a product (eg. Nike Air Max runners), Google uses the GTIN from the supplier's catalogue (Nike), and puts your ad into an auction with other resellers. From there, Google will pick up on the product attributes defined in the supplier's catalogue and will override any changes or optimisations made in your feed.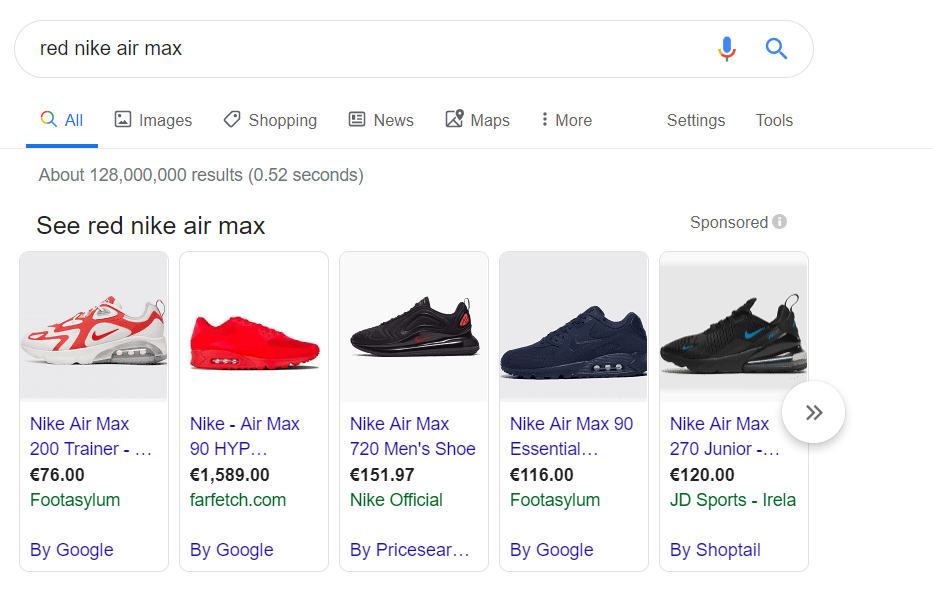 The GTIN can also help you rank in searches that contain words like "top", "best", "most popular" etc. Google uses the GTIN to identify which products have the best and most reviews (and generally relies on third party review sites like TrustPilot), and uses these to rank the products.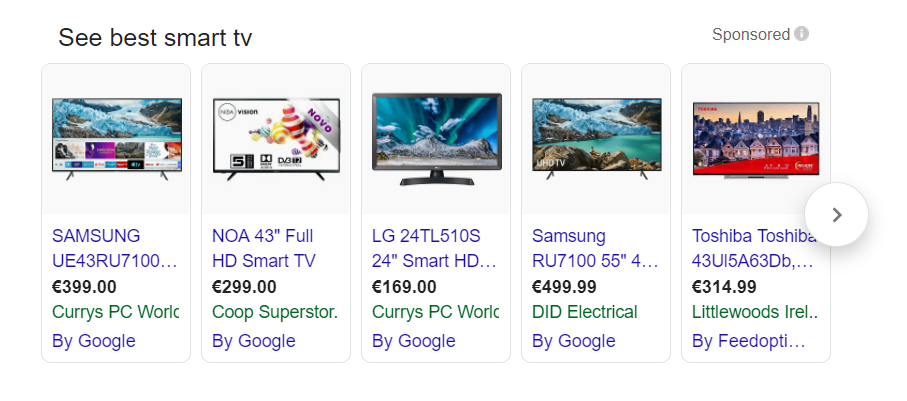 2. Product Titles
This might seem obvious, but product titles are key to success with Google Shopping. When you are building out your products to upload them to your feed and/or website, we would recommend tackling the product titles last.
The reasoning for this is that, if you have all the other product attributes optimised first, you will then have a clearer idea of what features should be mentioned in the title. However, it also depends on what product vertical you are in. As the below infographic from datafeedwatch.com shows, you should structure your title in certain ways depending on your product type.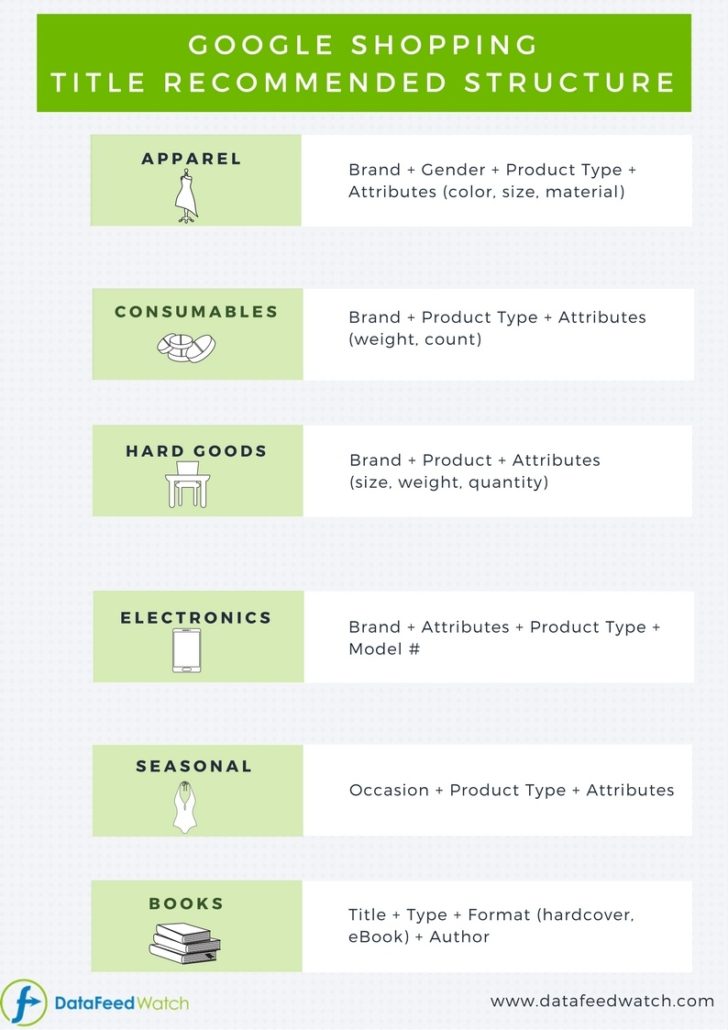 It is wise to ensure that important keywords are included. Compile a search term report to see which queries have converted and try to use them in your titles.
PRO TIP: If you really want to hone in on what keywords are the most effective for your store, conduct some keyword tests in your feed. Also, you should be mirroring product information from the website, so when users click the ad, they will find the same information on the site.
3. Accurate Colour Attributes
It used to be best practice to simplify the colors of your products to something a user would be more likely to search for.
As an example, if a tshirt was labelled "pomegranate", you might have changed this to "red". However, now your ads will be disapproved for mismatching landing page information. Google crawls the micro data on landing pages and will match the colour attribute in the feed to the colour value on the landing page.
4. Enable Dynamic Re-Pricing
Competitive pricing is vital to your eCommerce strategy.
There are dynamic solutions to help keep up with the price fluctuations in the shopping space. If you are using a third party solution like Wisepricer, you will be able to use their tool to run daily price checks to see how your pricing is compared to your competitors.
If you want to use a feed optimisation platform, you can label your products according to their price. For example, you could use labels such as "high" "medium" and low, depending on the price of the product. Then, in Google Ads, you will be able to up your bids on products that are competitively priced, and reduce your bid on those products that are higher in price and thus, less competitive.
Be careful when using this strategy however, as it is not ideal for all product verticals. Also be aware that if you convert a customer on one day and the next day, they see the same product on your site for a lower cost, they will not be happy.
5. Product Images
Images are absolutely crucial to your Google Shopping feed. When a potential customer searches for a product, their first thing they see is the image.
Here are some key points to for making sure your image link is optimized:
Use high resolution pictures

Make sure the variants match the picture (colour, size, material etc.)

Look out for text over the picture (watermarks, sales, manufacture parts numbers)

Test product images vs lifestyle images, as below (to find which works best for your brand)

Are you considering Google Shopping for your business, but don't know where to start? Call or email us today and let WebResults help you get your Google Shopping feed and campaigns up and running in no time.
https://www.webresults.ie/wp-content/uploads/2019/12/shopping.jpg
1253
1880
Rosey Broderick
https://www.webresults.ie/wp-content/uploads/2015/04/WebResults_Logo1.png
Rosey Broderick
2019-12-03 17:01:44
2019-12-03 17:04:40
Top 5 Tips To Optimise Your Google Shopping Feed