Google Ads extensions can increase your CTR by up to 20% according to Google. So why aren't you using them? Or if you are, are you using them to their maximum potential?
Extensions effectively give you more space on the search results page. It gives you the opportunity to make your ad as relevant as possible to your potential customer.  Extensions can help you create a sense of urgency to get your prospects clicking, highlight current offers, drive phone calls for your business and so much more.
We examine some of the best extensions and how you can best use them for your business.
1. Sitelink Extensions
Sitelink extensions take people to specific pages on your site (for example, a specific product or store hours). When someone clicks or taps on your links, they go directly to what they want to know or buy.
Sitelink example: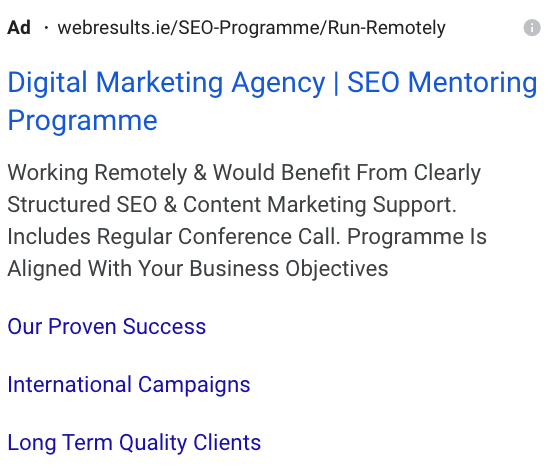 It gives you the opportunity to drive site visitors not just one static landing page, but to other pages that might be of use to your potential customers.
This helps your ads take up real estate and dominate the Search Engine Results Pages (SERPs) to enable web searchers to focus on your ad and pay attention to Calls-To-Action.
It will also help your customer find exactly what they are searching for without having to sift through your website. This creates easy navigation and seamless searching experience.
Also, the Sitelink extension is limited to just the maximum word limit of 25 characters, so get creative with it.
Use your analytics to establish what potential customers seek when they visit your website.
2. Call Extensions
Call extensions work by featuring your business's phone number at the top of the ad, next to the site URL. Call extensions communicate two key messages to your potential customers.
i) Your business is only a call away: If your customers intend to get in touch with you, it's easy to do so. You can easily be contacted, with your phone number on display.
ii) We will be there if you need us: If they got any troubles or inquiries to make, you have got them covered.
On the desktop, this will just show up as a phone number that users can enter into a mobile device; on mobile, this number is actually clickable, and with only two taps someone can call your office. Convenience is a huge asset when people are in a hurry, and mobile users typically are.
3. Promotion Extensions
Promotion extensions are used to advertise sales, coupons, deals, and similar special offers. These tend to be paired with a price tag icon, making them stand out from your competitor listings. Using these extensions, advertisers can also include date ranges. This is an easy way to create a sense of urgency. In addition, shorter date ranges tend to convert better than longer ones as there is a smaller window for consumers to capitalise.
Promotion extensions can be used for any type of promotion, but are exclusive to specific product discounts. Examples are:
Special discounts
Free deliveries
Extra packages
Exclusive deals
Bargains
Coupon codes and more.
These extensions are quite powerful. When people click it, it is generally with the intent to convert.
4. Callout Extensions
Callout extensions are non-clickable copy that are used to highlight your USPs.
In the words of Google Ads ,"callouts help highlight specific information about your products and services". To capitalise on your callout extensions, make sure you:
Provide enough information
Increase your options
Optimise for mobile users
Keep the character limit in mind (25 characters)
You have a limit of 3 call-out extensions, so be sure to give careful consideration to them.
5. Structured Snippet Extensions
Structured snippet Google Ads extensions really capture the user's attention. They allow you to create hyperlinked, clickable headlines that send users to key pages on your site, and feature a quick description under each one. Structured snippet Google Ad extensions will help you give more context to your ad.
Just as the name suggests; it "structures your words in snippets".
Structured snippets allow you to string a set of related terms or details together to communicate a section of the ad to the reader. For example, you can layout your services or your special offers in one snippet.
These snippets tell your target audience how you can serve them and what your business is all about.
This immediately attracts the right audience for your business, and rid your website of visitors that are not interested in your products.
6. Location Extensions
Location extensions add your business' address to the bottom of the ad, along with your operational hours if you feature it. When users click, they'll be taken to a Google map showing your location, and they can instantly get directions to where you are.
Is this business legit?
Location extension answers that for you.
They're an essential choice if the geographic location will heavily influence whether or not someone decides to do business with you.  But eCommerce brands also need them too. It builds trust. In addition, adding filters enables you to link specific locations to specific campaigns.
7. Price Extensions
Price extensions allow you to quickly showcase how much a given product or service costs, listing an item, linking to its specific URL, and then featuring pricing and qualifying information.
Is it in my price range? Does it fit my budget?
This is a great opportunity to make your ad even more competitive by offering up highly-relevant information upfront. Price, after all, is a huge factor that will shape someone's buying decision. The transparency of having the price readily available upfront can increase clicks if you're within the range that the searcher is looking for, and get them to click on your ad instead of competitors'. It's better to start with what you know instead of what you don't, after all.
And if the price is out of range from what the searcher is looking for? That's ok, too, because you don't want to pay a lot for clicks that have no chance of a conversion. This extension can actually prevent that.
8. App Extension
Users spend 90% of their mobile time within apps, so having an app extension for your business is key to staying relevant and increasing engagement with your audience. Don't wait for users to find that app on their own. Use the app extension to boost its visibility.
App extensions are mobile-only extensions, and they'll feature the name and logo of your app next to a clickable "Install" CTA at the bottom of your ad. These extensions are created to lead users to download your app, offering a new way for you to keep them engaged. Since it's mobile-only, this will make the extension incredibly valuable for users who may not want to navigate a full site, to begin with.
If you have an app, use this extension to promote it always. There is no downside here.
Statista recently revealed that Mobile apps are expected to generate over $365 billion in revenue by 2023.
9. Google Shopping Ad Extensions
The best Google Ads extensions for Shopping campaigns are probably:
a. Google Merchant Promotions
b. Product Ratings Extensions
c. Seller Ratings
d. Affiliate Extensions
a) Google Merchant Promotions
This extension performs what promotion extensions do for Google search ads.
If you have got any special offers, like a discount or free delivery, this extension lets the public know.
The benefits of offering discounts can't be overemphasized, about 93% of Shoppers use a coupon or discount code throughout the Year.
Discounts boost your conversion rate because obviously everyone wants to save.
b) Product Ratings Extension
Just like Apps are rated in stores, the same way this extension allows your products to be rated based on a 5-star scale.
Here's the thing. People love reviews! They want to be assured they are buying the best product that will serve them.
Studies reveal that 72% of customers won't take action until they read reviews and 15% of users don't trust businesses without reviews.
Those stats go to show how important ratings and reviews are important for businesses. If you have got amazing reviews and love showered on your products, then this extension helps you proudly display the fact.
c) Seller Ratings Extensions
Seller Ratings are the stars that appear in ads on the Google Search Network via an automated extension.
Seller ratings show the following:
A rating out of 5 stars.
The number of ratings the business has received (in parentheses).
A qualifier (e.g. average delivery time) that highlights why you got the rating (if data is available).
Google sources the ratings and reviews from Google Customer Reviews, StellaService, Google Consumer Surveys, third-party review sites and other sources.
The difference between product and seller ratings is that the former is exclusively for products and shopping ads, while seller ratings are for your brand as a whole, the entirety of what your brand offers.
This rating extension is for your brand image. If you have got a solid track record with plenty of reviews, this will motivate potential customers to make purchases from your brand.
d) Affiliate location extensions
If your products are sold through retail chains, affiliate location extensions can help you reach consumers as they're deciding what and where to buy. This type of ad extension works by helping people find nearby stores that sell your products. These extensions are only availability in certain countries so may not be relevant to your target markets.
In Conclusion
Google Ads extensions are very effective for most businesses, but not all will be suitable for all businesses.
Take the time to identify the Google Ads extensions that will align with your business objectives. Each extension you set up should have a clear objective. What are the issues your key target personas have and which extensions will make it easy for them to help resolve their issue in the current environment.
Some extensions drive conversions, others build trust, others build profile. Use them carefully to enhance your ad copy and your messaging.
If you have an Google Ad account that you feel is not optimised to its full potential, contact WebResults today.
Request A Free Google Ads Account Audit or talk to us.
https://www.webresults.ie/wp-content/uploads/2020/04/Google.jpeg
1255
1880
Rosey Broderick
https://www.webresults.ie/wp-content/uploads/2015/04/WebResults_Logo1.png
Rosey Broderick
2020-11-04 15:55:56
2020-12-03 14:11:03
The Top Google Ad Extensions To Optimise Your Campaigns